Hydra Monitoring
From GlueXWiki
Hydra is an A.I. based system deployed in hall-D for near-real time data quality monitoring. It is, at regular intervals, fed images by Rootspy which are analyzed by a set of neural networks to provide basic classifications of the images to aid in monitoring.
Currently the system looks at 7 distinct occupancy plots: the BCAL, CDC, TOF, DIRC (south bar box), SC, FDC, FCAL. To add a new plot please contact tbritton@jlab.org.
Results are available in two different forms, both accessible from off site.
---
The first can be found at the Hydra Runtime page. Initially, and when monitoring is not running or data is not being taken, the page loads as a header block containing "Waiting for data..." or the run number and the last updated time. Below that are a set of empty rectangle blocks which will host the plots. This state should last at most a minute during active data taking. The Last updated time will increment as it waits for data, so rest assured the page is not broken. As data is received you will see the following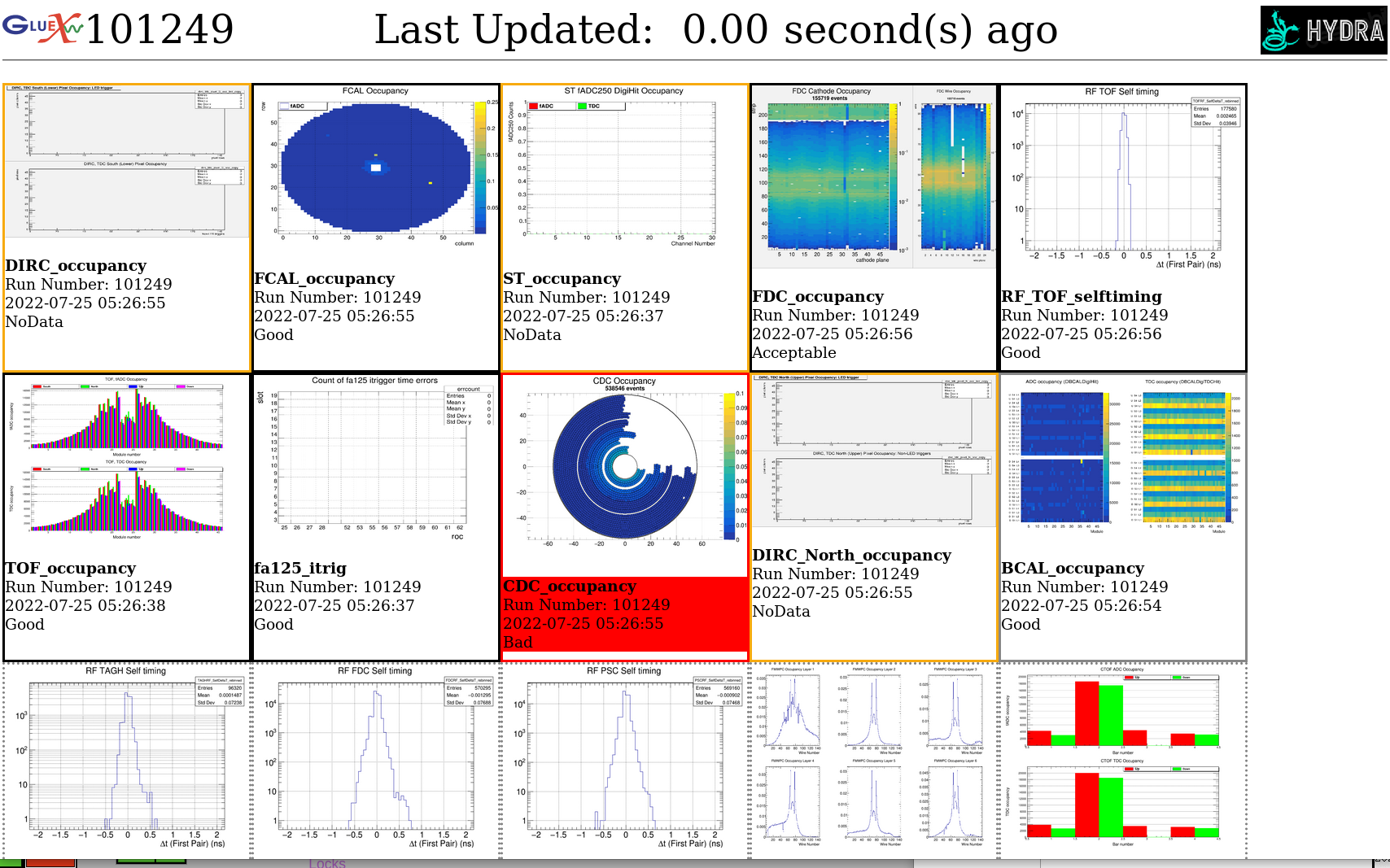 . Each "card" contains the image analyzed, the datetime it was analyzed, the category, and it's "confidence" (normalized to be between 0 and 1). To aid in visibility any plot judged to be "Bad" will have its border changed to red. This page auto-updates and should show every plot seen by Hydra. This, in principle, could replace the "reset" button in Rootspy.
---
The second page can be found at the Hydra Monitoring Log page. This page shows only the plots deemed bad or needing a second opinion in the trailing 24 hours from the time the page is loaded. When there are images it will look like: