Solid Target Shift
From Hall D Ops Wiki
Description of Solid Target for CPP-NPP
Material near the target consists of the following:
exit beam pipe window: 125um Kapton
distance from exit beam pipe window and target: ~3cm
distance from lead target to entrance He bag: ~1cm
entrance and exit window He bag: 50um aluminized mylar
Change between Full and Empty Targets
The target holder has two positions:
Full (208Pb) - YELLOW FLAG (Tape) UP
Empty Target Frame - YELLOW FLAG BEAM LEFT
Changes between the two configurations requires an access to the hall, which may be conducted in Rapid Access Mode. Changes between the configurations should be performed by personnel familiar with the procedure:
The position of the flag indicating the target position can be viewed using the camera in Hall D from the west wall. The camera can be accessed from Cameras in Hall D.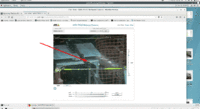 Original Solid Targets from 2014
Note: Documentation of original Hall D target in 2014 can be found in the deprecated pages Solid Target Shift Original
Expert personnel
The individuals responsible for checking that the solid target is ready to take data and setting its operating parameters are shown in following table. Additional experts may be trained by the system owner and their name and date added to this table.
Table: Expert personnel for the CPP-NPP Solid Target

| Name | Extension | Date of qualification |
| --- | --- | --- |
| Tim Whitlatch | Office: 757-269-5087 | June 10, 2022 |